Want to download IDM aka Internet Download Manager for PC Windows 7/8/10/XP computer and experience blazing fast download speed more than ever? If you are using a slow or an average internet speed, then make it even faster with this download manager app.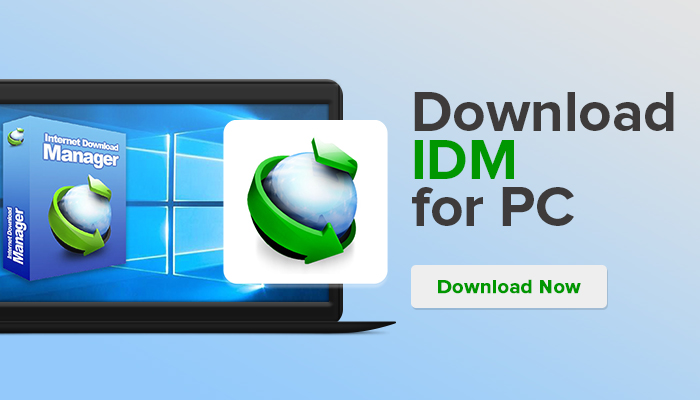 Downloading files from the internet has become common now. People like to download all types of files like videos, songs, movies, and many other files from the internet.
Everyone must use a dedicated software for downloading and managing all the downloaded files in a systematic manner. This software is known as download managers or specifically for this article, the IDM for PC.
Internet Download Manager is one of the best download managers for Windows right now. It has a really simple UI (User Interface) with very powerful features which makes it very easy to use.
On this page, you'll learn about the following:
Download IDM Latest Version
Internet Download Manager is available for all versions of Windows be it 7, 8, or 10. You can get it free and download IDM for PC latest version for Windows 7/8/10 from below.
| | |
| --- | --- |
| Name | Internet Download Manager v6.40 Build 1 |
| Size | 10.46 MB |
| Requirement | Windows 7/8/10/XP |
| Author | Tonec Inc. |
If this is your first time to know about IDM, we recommend all of you to watch this video. This will clarify some questions on how to use and what the IDM is for your online activities.
How IDM Works
Every file you download using IDM gets downloaded really fast. It divides the downloading file into many streams and each stream gets downloaded separately. You can also download content from sites like YouTube and YouTube Kids, Dailymotion, Vimeo, and many more. This is the same as Tubemate for PC or Hotstar for PC.
Apart from this, Internet Download Manager can manage multiple downloads at a single time with ease. Even if many files are downloading at the same time. The download speed doesn't get slow as it uses batch downloads. Now, let's take a look at some of IDM's best features.
Features Of Internet Download Manager
You can download any file that you want from the web using IDM for PC. And to give you more security, use Turbo VPN or Psiphon for PC to hide your online presence.
Supports Batch Download -If you want to download multiple files at the same time, you can use the Batch Downloads option in Internet Download Manager. This option divides your downloading files into various batches in a well-organized manner.
Parallel Downloads– Internet Download Manager helps you download the files at a great speed. It divides the downloading files into various streams and parts which speed up the downloading process.
Intelligent File Management- You can also import and export your downloads using Internet Download Manager. Very useful to every one who needs it.
Full Control on Download Paths– You can update the download address of all your downloads both manually and automatically. All the files normally go to the drive C. If you want to change the folder for your downloaded files, you can change it before the download starts.
Queue Files to Download– There are multiple queues for multiple downloads. You can download multiple files at the same time, but that lessens the internet speed. So, you can also add the files you want to download to queues.
Download History– You can check all your recent downloads from the very convenient option recent downloads list. Having a list of this, you will have management of what is being download on your device.
Grab Video While On Stream– You can download any videos from online video streaming sites like YouTube, Vimeo, Dailymotion, and many more directly from IDM. Through this you have efficient ways to watch the videos you want.
Secured File Integrity– Internet Download Manager gives a dynamic segmentation to all your files throughout the downloading process.
IDM supports various multiple protocols like HTTP, MMS, HTTPS, FTP, Microsoft ISA and also the authentication protocols like Negotiate, Kerberos, Basic, and NTLM. These protocols auto-authenticate all your usernames and passwords.
Multiple Browser Compatibility
IDM supports almost all the common internet browsers. Like Internet Explorer, Google Chrome, Safari, Netscape, Opera, Mozilla Firefox and many others.
Organize Files Seamlessly
All the downloaded files are available in an organized address folder. Thus you can easily access all the files you download.
So, if you are looking for a reliable download manager, we highly recommend you to download IDM for PC for free from the links mentioned above.
In Conclusion
The IDM for PC or Internet Download Manager is unquestionably the best download managers that you can find and use to date. It can really boost your download speed up to five times faster. It also is the most reliable when it comes to performance and stability. You can find that out for yourself if you read all its user's reviews.
If you want to ask anything about today's topic, feel free to ask your queries in the comment section below. We will answer all of them as soon as we can.