YouTube Vanced is an app for Android devices, introduced by Master_T and Xda Developers. Currently, handled by the new Vanced Team, the app removes YouTube ads while you watch your favourite videos. It is a free app with premium features. You can download the Vanced app directly on your phone from this post. Also, read about how to download YouTube Kids on PC/Windows.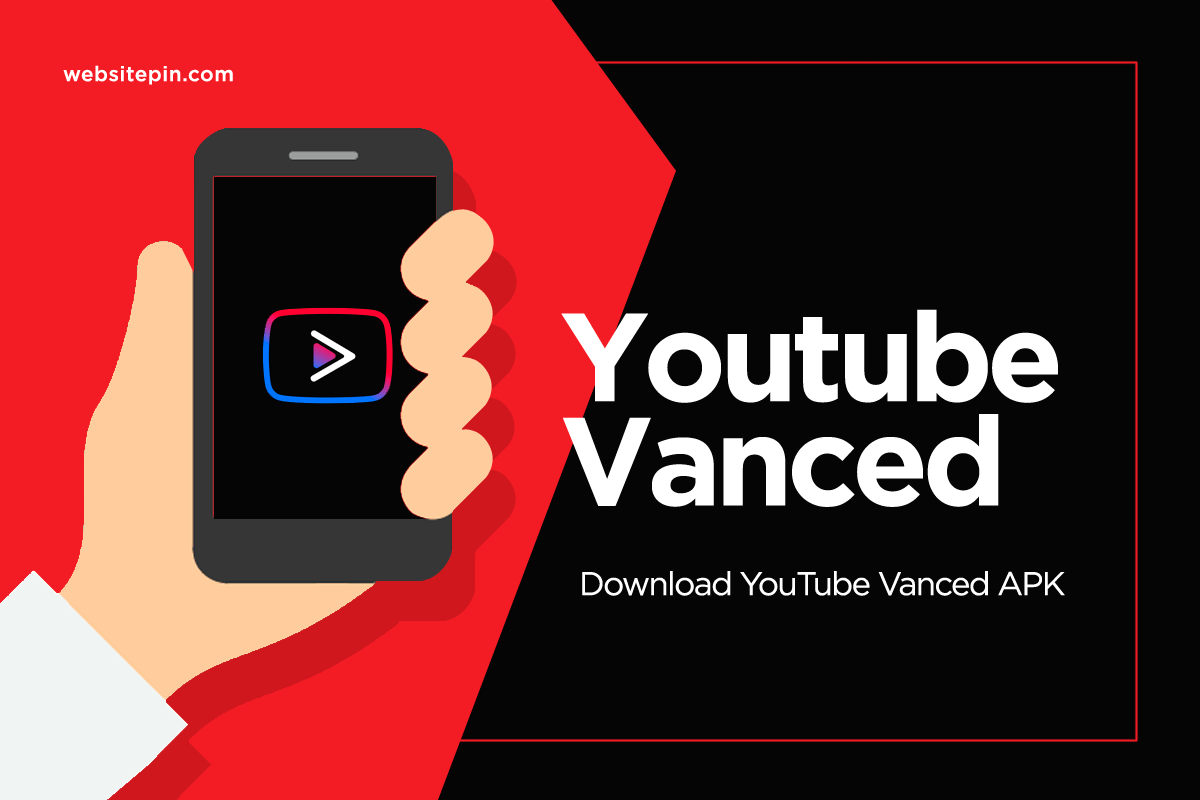 Before we proceed, you can read about how to download WhatsApp mods like GBWhatsapp and WhatsApp Plus from Website Pin.
YouTube Vanced App – Overview
It is a modded YouTube app. Installing this app will add up a bunch of new features to the original YouTube app. Background play, removal of ads, theme change, and some premium features will be added to the YouTube app. The app is available on Android and Windows PC.
There is a bunch of specifications you will find while using the Vanced app. One of the most important specifications is the removal of YouTube ads. This app does not affect the original app on your phone. It gets merged with it and adds up other premium options to it.
There are three variants users can get with the Vanced App, YouTube Vanced Non-root variant, Root variant, and Magisk Variant. If you want your phone to root, then install the Root variant; if not then a non-root variant is available.
Some of the important specifications you will get from the app are ad removal, picture-in-picture mode, background playback, pinch-to-zoom, auto-repeat, toggle theme, and some more options are available.
Download YouTube Vanced APK
| | |
| --- | --- |
| Name | YouTube Vanced Apk |
| Latest Version | v16.16.38 |
| Requirement | Android 4.2 or above |
| Last Updated | June 5, 2021 |
YouTube Music Vanced App Install (v4.30.51)
Music Vanced app is a similar modded app like Vanced app for the YouTube music app. With this app, you can get rid of ads and get background music to play and autoplay. To get the Music Vanced app, users need to install the Vanced manager first.
Install the Vanced manager from below.
Once installed, configure the app.
On the next page, download the MicroG manager.
After installing MicroG, you will get an option to download Music Vanced.
Download and install the Music Vanced app on your device.
Once installed, log in with your Google ID.
Install YouTube Vanced App Root Variant
Users can get the root variant on their phones. In the case of this version, the app gets merged with the original app. In this case, no other manager needs to be installed. However, one should have Google Play Services on their phone. Install the app from the below link.

Install YouTube Vanced App Non-Root Variant
A non-root variant can be installed through the YouTube Vanced Manager and MicroG manager. Follow the below steps to install a non-root variant:
At first, download Vanced Manager on your phone.
Once installed, start configuring the app. Select "non-root" option.
On the next page, initiate to install Micro G manager.
Install the MicroG manager, select 'preferred language' and finish the installation.
After successfully installing the managers, the Vanced app will finish downloading.
Users have to log in to the Vanced app with their Google account.
Read also, about Hotstar download for PC in easy steps.
Install YouTube Vanced App Magisk Variant
In this variant, users need to get the Magisk Repo. Once you install the Repo, you can easily download the Vanced app on your device. Download and install the Magisk Repo from the below link.
Get Older versions of the Vanced App from below. If your device does not support the newest version of the app. You can download a previous version.
Also read, download Google Assistant for Windows.
Which Variant You Should Use
As mentioned, there are 3 variants one can use. If you opt for a root variant, then you must root your phone. In this way, all your apps will be rooted. However, we recommend going for the non-root variant as you don't have to root your phone or apps. The non-root version is available on root devices as well. You can also get the older versions from here.
Users can opt for the Magisk variant too. In this case, they have to install the Magisk Repo to run the app on their devices. Below are the details of three different variants.
Check also, how to download Google Duo for PC.
F.A.Qs
Is YouTube Vanced available on Apple? 
No, this app is not available on iOS. However, iOS users can install similar apps to remove ads from YouTube. 
Is there any price to be paid to have the Vanced app?
No, the app is completely free. It does not need any price/cost or any kind of subscription to use it. 
Is the YouTube Vanced app legit?
Yes, the YouTube Vanced app is totally legal. Android users and Windows users can download the app safely through Vanced manager.
How to download the YouTube Vanced app on PC? 
To get the Vanced app on PC, you need to install an Android Emulator first. Then download the Vanced manager and run the app on the Emulator. 
Conclusion
Download this modded app today and enjoy the ad-free video streaming on your phone and computer. The Vanced app does not allow you to watch YouTube offline videos. But it gives you most of the premium YouTube features. This free app will not change anything to your original music or video app. It will only add some new and premium features to your existing YouTube App. You will find the YouTube Vanced Tuber app on Google Playstore. Please share your experience with us in the comment section.