YouTube Vanced is an App specially designed for Android Device. With the Vanced app, users can enjoy HD videos without ads. Developed by Master_T and XDA, the app comes with a bunch of premium features for free. Currently, handled by the new Vanced Team, the app removes YouTube ads while you watch your favorite videos. Users can download videos to their mobile devices and also can enjoy background video playing features with the Vanced App. Get the app download link from this page. Also, read about how to download YouTube Kids on PC/Windows.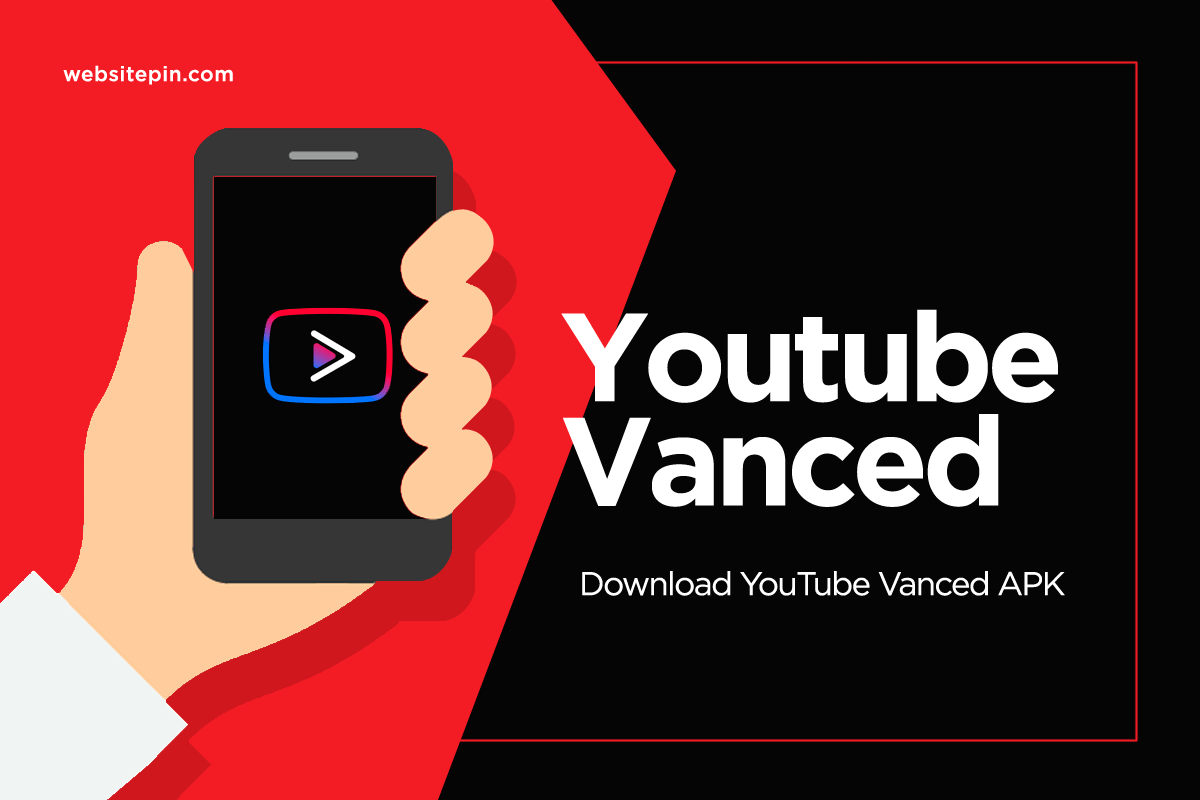 On this page, you'll learn about the following:
YouTube Vanced App – Overview
Youtube Vanced is a modded YouTube app that adds a bunch of new features to the original YouTube app. Background play, removal of ads, theme change, and premium features will be added to the YouTube app. The app is available on Android and Windows PC.
The Vanced App comes with a bunch of features that are available on the YouTube premium version. The best feature of all is the ad-blocker. You can enjoy the actual video without any irritating ads. Along with that, the feature of background video playback is also available in the Vanced App. Some additional features like a dark theme are also available in this version.
If you are skeptical about using a modded app then let me tell you, the app does not affect the original app. It gets merged with it and play all your videos. You can set your preferred video quality and watch your favorite trending video anytime without any ads.
There are three variants users can get with the Vanced App, YouTube Vanced Non-root variant for a non-rooted device, Root variant, and Magisk Variant. If you want your phone to root, install the Root variant; if not, a non-root variant is available.
Some of the essential specifications you will get from the app are picture-in-picture mode, background playback, pinch-to-zoom, auto-repeat, toggle theme, and some more options are available.
Before we proceed, you can read about how to download WhatsApp mods like GBWhatsapp and WhatsApp Plus from Website Pin.
Download YouTube Vanced APK
| | |
| --- | --- |
| Name | YouTube Vanced Apk |
| Latest Version | v4.0.80.121 |
| Requirement | Android 4.2 or above |
| Last Updated | 1 day ago |
Note: Google has shifted to split APK since YouTube launched version 14.41.52. The Android Installer Package does not support split APKs. Hence, You are downloading Vanced Manager here (4.3MB Size). Once downloaded, install this on your phone. From Vanced manager, you can install YouTube Vanced on your phone with all the required files.
Install YouTube Vanced App Root Variant
Users can get the root variant on their mobile phones. In the case of this version, the app gets merged with the original app. In this case, no other manager needs to be installed. However, one should have Google Play Services on their phone. Install the app from the below link.

YouTube Vanced Installation for MIUI Users
For MIUI users, it is important to disable the 'MIUI Optimization' in the 'Developer Options' on the device. To get the YouTube Vanced APK on your MI phone, go to settings > About Phone > Tap on the MIUI version until it shows the 'You Are Now A Developer' option > Go Back to Settings > Additional Settings > Developer Options > Scroll to find 'MIUI Optimizations' > Allow Warning and Disable.
Once you disable the MIUI optimizations, you will be able to download Vanced Manager. From the Vanced Manager, users can install the latest version of YouTube Vanced or YouTube Vanced Music APK.
Install YouTube Vanced App Non-Root Variant
A non-root variant can be installed through the YouTube Vanced Manager and MicroG manager. Follow the below steps to install a non-root variant:
At first, download Vanced Manager on your phone.
Once installed, start configuring the app. Select "non-root" option.
On the next page, initiate to install Micro G manager.
Install the MicroG manager, select 'preferred language' and finish the installation.
After successfully installing the managers, the Vanced app will finish downloading.
Users have to log in to the Vanced app with their Google account.
Read also about Hotstar download for PC in easy steps.
Install YouTube Vanced App Magisk Variant
In this variant, users need to get the Magisk Repo. Once you install the Repo, you can easily download the Vanced app on your device. Download and install the Magisk Repo from the below link.
Get older versions of the Vanced App from below if your device does not support the newest version of the app. You can download a previous version.
Also read, download Google Assistant for Windows.
YouTube Music Vanced App Install (v4.65.50)
YouTube Music Vanced App is a modded music app for Android users. Similar to YouTube Vanced APK, YouTube Music Vanced also has ad-free music streaming. You can get the Music Vanced App once you will install the Vanced Manager from this page. You will get background music to play and autoplay features which are available only on the YouTube Music premium account.
Install the Vanced manager from below.
Once installed, configure the app.
On the next page, download the MicroG manager.
After installing MicroG, you will get an option to download Music Vanced.
Download and install the Music Vanced app on your device.
Once installed, log in with your Google ID.
Which Variant You Should Use
As mentioned, there are three variants one can use. If you opt for a root variant, then you must root your phone. In this way, all your apps will be rooted. However, we recommend going for the non-root variant as you don't have to root your phone or apps. The non-root version is available on root devices as well. You can also get the older versions from here.
Users can opt for the Magisk variant too. In this case, they have to install the Magisk Repo to run the app on their devices. Below are the details of three different variants. For all three variants, one has to download the Vanced Manager first. Vanced Team updates the manager every fortnight to make your app up-to-date.
Check also how to download Google Duo for PC.
If you're wondering how to get YouTube Vanced, you're in luck. The app is still available for free, but its popularity has waned since Google rolled out the YouTube Premium paywall. This subscription includes features like background playback and ad-free videos. Although Vanced's website has shut down, it is still possible to download an APK. Moreover, the latest version should work for several years. That said, you need to keep in mind that YouTube changes its features from time to time. Therefore, you may want to consider purchasing YouTube Premium.
How To Download Youtube Vanced
YouTube Vanced is an application for Android that replaces the official YouTube app. This application enables users to view videos without ads and allows them to call YouTube links using Google Assistant. Both root and non-root users can install this application. However, the non-root version is recommended as it can run on non-rooted devices.

While Vanced is no longer an official app, it has been a very popular alternative to YouTube's stock app. It allows you to download videos for offline viewing in certain countries, but if you're outside of these countries, you'll need to download YouTube Premium or use a third-party app. Although Vanced has a large user base, it will likely be discontinued soon. However, if you are in need of an older version, you can try downloading it from its website. Just be aware that the download links will disappear soon after the app is retired.

The YouTube Vanced app is free and can be downloaded from Google Play. However, if you're not using a rooted phone, you can install it by installing MicroG on your device. The MicroG app is a free download and allows you to log into the YouTube Vanced app with your Google account. This app can also be used if you have an older Android device.

One of the main benefits of the YouTube Vanced APK is that it offers many features that are not available in the stock YouTube app. For example, it can override the maximum resolution and force the default VP9 or HDR video quality standard. Moreover, it will also allow you to watch videos in the background.

Another reason to download YouTube Vanced is its privacy and security. This app offers one-click login and syncs your data to your device. And it also allows you to download all of YouTube videos without using the official YouTube application. It is safe and has not been contaminated by viruses.

YouTube Vanced is also compatible with third-party apps. However, it's not advisable for users of iOS devices due to security issues. If you are using YouTube on your iPhone, you should make sure that it's the official YouTube app. In addition, the YouTube Vanced app supports dark themes. This feature reduces the energy usage of your iPhone and reduces eye strain. The YouTube Vanced app also offers the ability to boost the brightness and volume if needed.

You may have heard of YouTube Vanced and wondered how to download it. If you want to watch YouTube without a Premium subscription, YouTube Vanced is an excellent alternative. It offers the same features as the official app, but you can also enjoy the privacy and ad-blocker. The app is a modded version of the official YouTube app for Android, which isn't available in the App Store.

Another popular YouTube alternative is NewPipe. This application was developed with the intention of giving people a YouTube experience without the advertisements. It's an open source application so anyone can make changes to it. Moreover, it's lightweight and can be easily installed on your phone.
F.A.Qs
Is YouTube Vanced available on Apple?
No, this app is not available on iOS. However, iOS users can install similar apps to remove ads from YouTube.
Is there any price to be paid to have the Vanced app?
No, the app is entirely free. It does not need any price/cost or any subscription to use it.
Is the YouTube Vanced app legit?
Yes, the YouTube Vanced app is legal. Android users and Windows users can download the app safely through Vanced manager.
How to download the YouTube Vanced app on PC?
To get the Vanced app on PC, you need to install an Android Emulator first. Then download the Vanced manager and run the app on the Emulator.
Conclusion
YouTube Vanced App is one of the best video player apps on Android. It is easy to merge the original app with the APK on the target device. You can change the theme and quality of the video by changing the video setting in the app. YouTube Vanced also has a music streaming service, namely Vanced Music. You can enjoy millions of songs without hassle in this app.
If you've been looking for a free application for YouTube, you've probably been wondering, "How to install YouTube Vanced on a PC?" It's really not as difficult as you might think. All you have to do is download the app and install it on your PC, as mentioned in the article. Then, open the app and follow the directions that are displayed on the screen. Once the software has finished downloading and installing, you'll be able to use it right away.
Here I shared almost everything about Vanced APK. If you have any additional information or you enjoy reading our articles, please comment below, and we will get back to you.